In early July, Thornton's Development Director, Jennifer Walker travelled to Mexico to meet with educational consultants and Old Thorntonian Alumnae!  Below is an account of one alumnae meeting:
On the 10th July, I met with Ana and her mother Jacqueline (pictured) at the Old Sevilla Palace Hotel in Mexico City.  Although we haven't ever met before, as an Old Thorntonian myself it was strangely emotional to hug and welcome Ana and Jacqueline.  We went to the hotel lounge, got settled, and began sharing our experiences and memories of Thornton.
Ana attended Thornton as a termly boarder for one-year in 2012 – 2013, remembers her year at Thornton so fondly and beams when when talking about her time there and the friends she made.  She has two close friends today, Eleanor and Chloe from her year at Thornton and has travelled with them on holiday.  Ana remembers the trips at the weekend, especially to Cadbury's Chocolate factory in Birmingham.  Ana ate so much chocolate that she wasn't feeling so well for the next day, but she loved it!  Ana also remembers ballet classes at school in the Expressive Arts Studio and the amazing boarding team who arranged for her to go to horse riding lessons at the weekend.  She loves horses and was thrilled to have this experience at Thornton, as she needed to have that time with them for her own wellbeing at the weekends.  One of Ana's fondest memories was dressing up in beautiful prom dresses and posing for photographs on the Beauty and the Beast staircase in Red Hall.  She felt like her and her friends spent the whole day dressing up as princesses and still has photographs of the occasion.  In the weekdays, Ana remembered attending gardening and cooking classes and the swimming parties in the summer!
Ana's mum, Jacqueline, was worried about letting her baby girl go to the other side of the world, but the family had heard good things about Thornton, and it has a good reputation amongst families in Mexico City looking for a boarding school for their daughter.  Jacqueline said that to be successful in business in Mexico City children need to be fluent in English and her and her husband were keen to provide this year at Thornton for their daughter to give her a real boost in English.  Jacqueline also feels that 'Thornton made my daughter strong'.  She says that Ana grew in confidence at Thornton just through the experience of travelling overseas without parents and siblings and living in the UK on her own, experiencing travel, trips and developing new friendships, as well as receiving an excellent education from very good teachers.
Both Jacqueline and Ana agreed that they liked the fact that Thornton is a girls-only school and not co-ed; "I really like the fact it was only girls – it makes you feel more comfortable".  Ana felt she could have lots of fun with no concerns about being silly with friends or what she looked like.
Reflecting on her time at Thornton, Ana feels that it gave her friendships for life and two additional languages, English and Catalan. She made good friends with a Spanish student called Sandra and they are still in touch today.  During her time here she went to Spain with Sandra for the Easter Holidays and nine years later Sandra travelled to Mexico to visit Ana.  In between these years Ana has travelled to Barcelona to meet Sandra.  Ana also remembered another Spanish student called Julia who ended up staying as a student at Thornton for four years as she 'wanted to stay at Thornton forever'.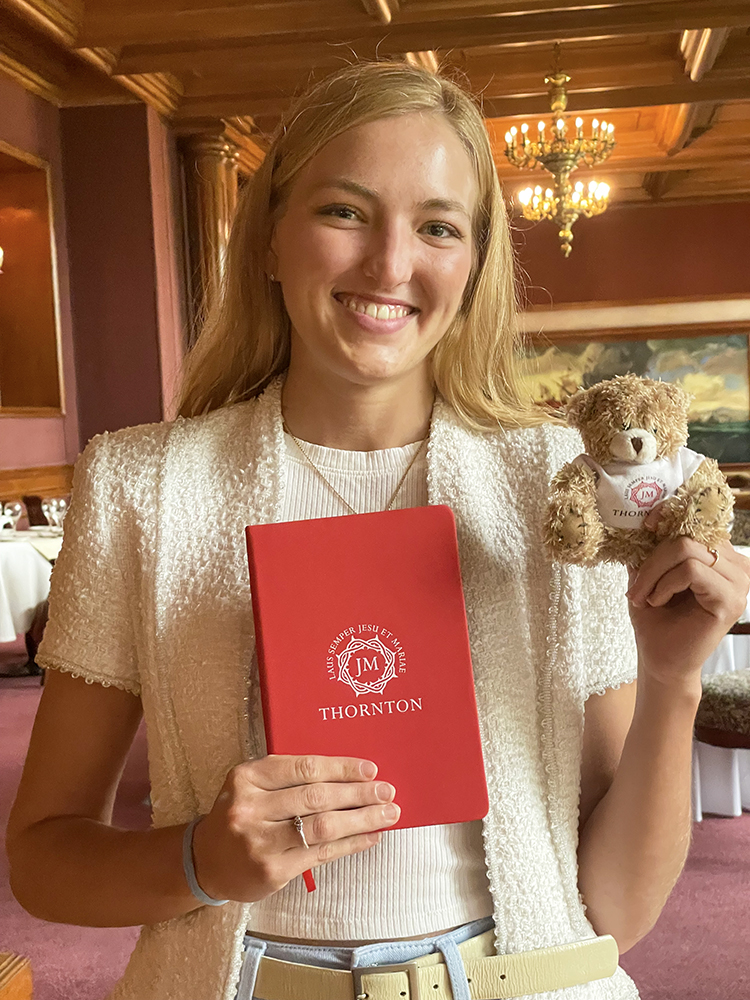 Today Ana is 23 years old and has just graduated in Business Administration at Ibero Americano Universida in Mexico City.  She is already working and is currently a purchasing manager with CBS which is a pharmaceutical chain, similar to Boots in the UK.  She has a boyfriend and is enjoying her job.  Ana would like to return to the UK in a couple of years to study for a Masters degree!
It was wonderful to meet with Ana and Jacqueline and hear about their experience of boarding at Thornton and what Thornton was like ten years ago!  We shared a few happy tears and hugs, and I was delighted to gift a Thornton Teddy to Ana (you're never too old for a teddy).  Most importantly, it is joyous to be in contact with this lovely Thornton family and I look forward to meeting them again at our next Mexico Alumnae event, which Ana has happily agreed to help me organise!
Categories:
Alumni
Alumni event