GLOBAL COMPETENCE:
At Thornton we are very lucky to be situated in 25 acres of stunning grounds.  Our students literally see and experience the environment each day.  However, we ensure that understanding our local and global environment and environmental sustainability is taught and experienced throughout our Curriculum and Co-Curriculum offering.  We learn together about how precious our world is and that we need to take care of it and look after it to ensure we share this earth with all of those around us.
ECO PARK:
In 2019 Thornton introduced an Eco Park including a Natural Dipping Pond and Forest.  This area is used for Prep and Senior Science lessons, Prep Forest School, Wellbeing Walks, Running trails, Walking Nature Trails, Eco Clubs and much more.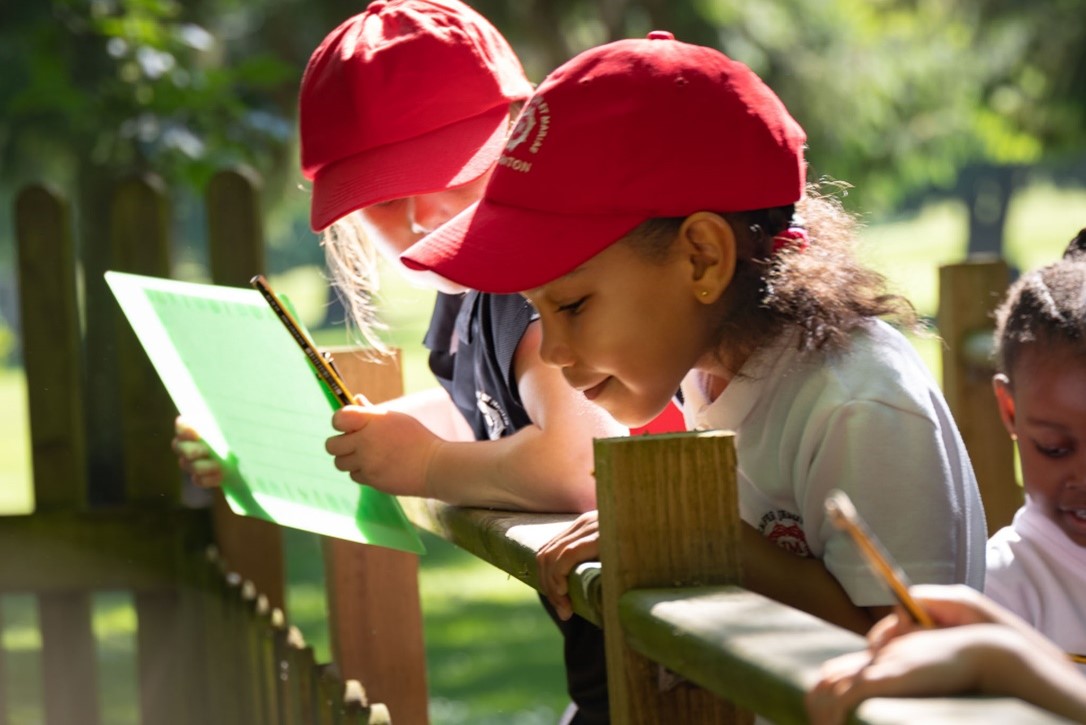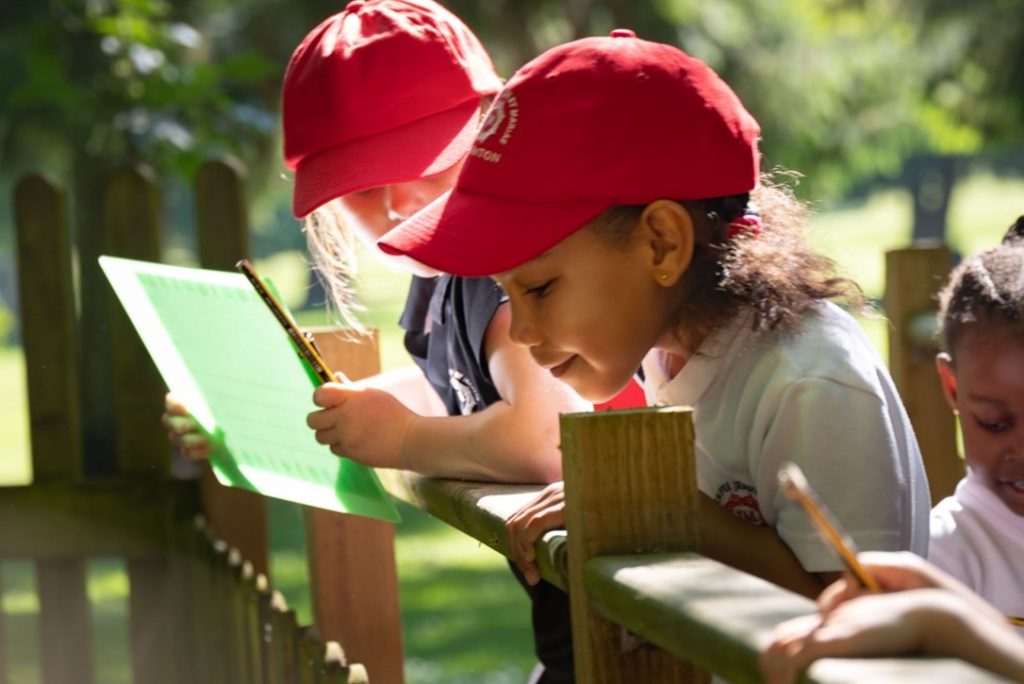 FOREST SCHOOL:
In 2020 Thornton introduced Forest School into the Prep Curriculum and now all children aged 4 – 11 have the opportunity to learn about the environment and natural survival skills each term.
ECO SCHOOLS:
In 2020 Thornton introduced a Prep and Senior Eco Committee to allow students to represent their year Groups and lead environmental action within school to increase awareness of our environment and sustainable options.
The Committees worked on a 7 step Eco Plan run by Eco Schools concentrating on three key areas; waste, litter and healthy living.  The students led initiatives such as litter picking rotas, recycling bins, water butt rain collection, harvesting natural food (apples from the orchard), wasting less food at lunch time, student energy monitors, a recycling Christmas Jumpers day, wellbeing walks and much more.
These efforts ensured that Thornton was awarded, throughout the programme, the Eco Schools Bronze and Silver Awards and then in July 2021 Thornton College was awarded an ECO GREEN FLAG.
In July 2023, our Thornton Eco Committees achieved the highest possible Eco School Award of a Green Flag with Distinction!
Thornton is proud to be a 'Green Flag' School.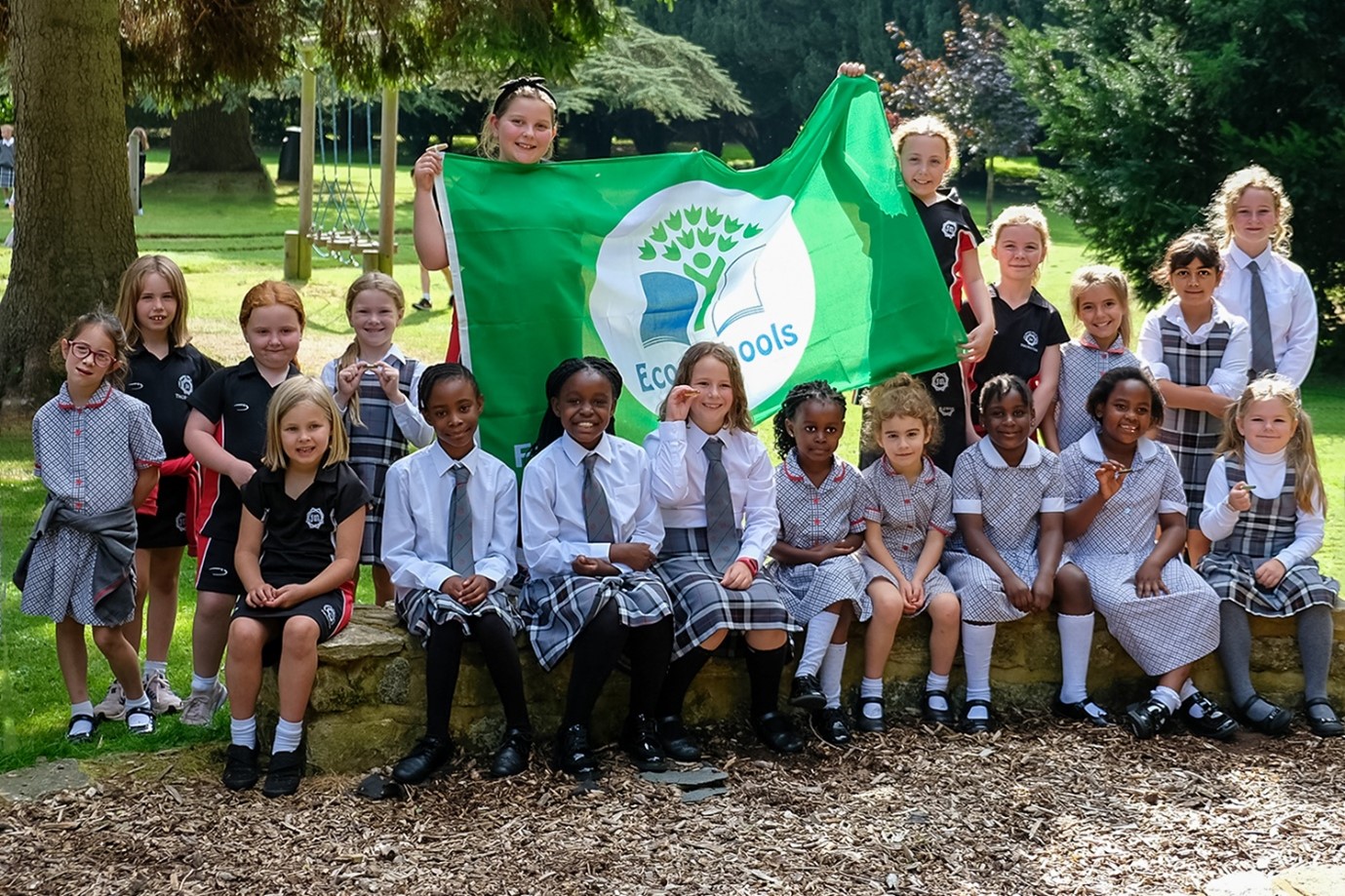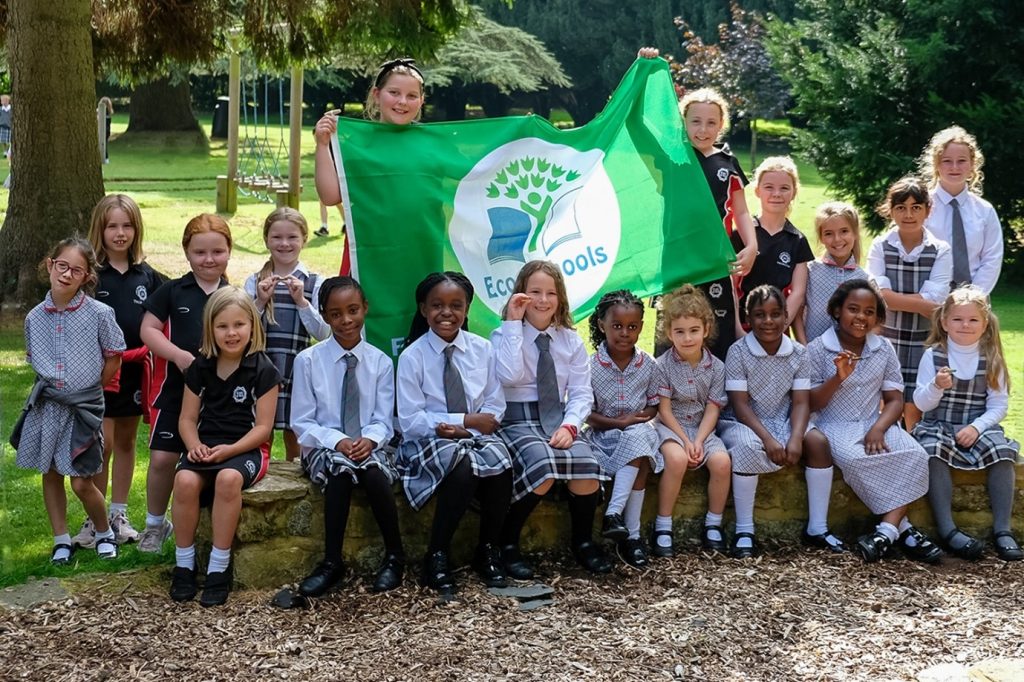 To maintain our Green Flag Status we need to continually increase our areas of interest and this needs to be led by our student committees.  Our Students have chosen to work in the areas of biodiversity and marine life whilst continuing our work with waste and healthy living.
CO CURRICULAM ECO CLUB:
In 2021 we started an Eco Club for Prep Year groups.  This is a hugely popular club and our youngest girls work practically to act on our ECO SCHOOL plans and commitments.  Examples of some of these actions include building bee homes, rewilding school grounds, monitoring habitats and wildlife, building bird boxes, raising awareness of the importance of going paperless, not buying plastic, picking up rubbish and planting flowers and seeds.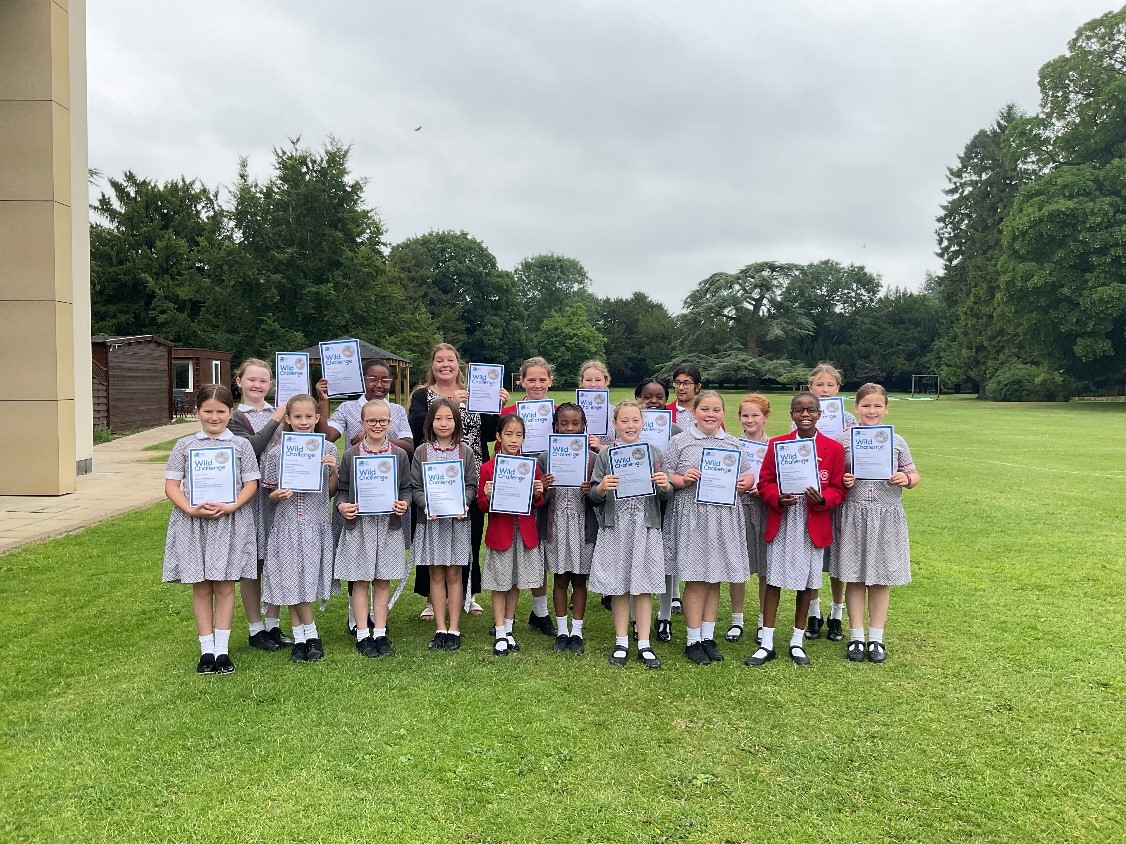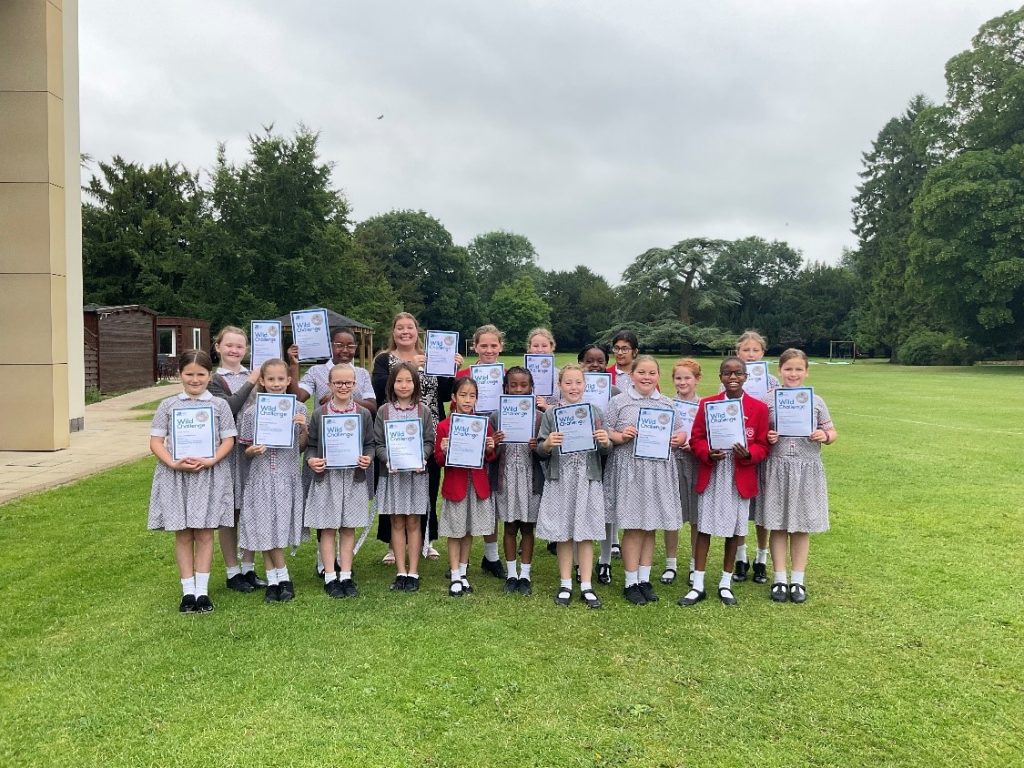 As part of our Eco School Action plan the Prep Eco Club completed the RSPB Wild Challenge to understand and increase biodiversity at Thornton.  Students achieved their Gold Awards in September 2022.
As our students love wildlife and animals so much our prep eco club was really sad to learn that hedgehogs are now sadly in huge decline and endangered in the UK.  As a prep eco committee we committed to join The Hedgehog Preservation Society and complete their Hedgehog Friendly Campus activities to ensure Thornton provides a wonderful natural and safe habitat for the at risk hedgehog.  Activities included, building hedgehog homes, implementing feeding stations, hedgehog highways, crossings and ladders, no mow May campaigns, raising awareness and funds and implementing a rewilding area in school grounds called Hedgehog Haven!  Students were proud to receive their Hedgehog Friendly Campus Gold Awards in February 2023.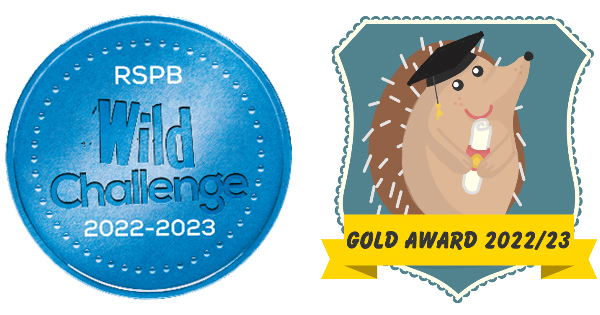 WILDLIFE AT THORNTON:
In addition to being home for over 70 boarding students, the school's estate is also 'home' to a variety of animals.
The following video illustrates examples of the wildlife at Thornton, filmed on hidden cameras. The majority of our inhabitants should be expected in rural Buckinghamshire, whilst others perhaps not.
WASTE:
From 2021, Thornton (advocated by our Eco Committee) has asked all staff to consider their use of paper.  In addition the school has invested in online systems that reduce the need for paper in communications.  The admissions process is now completely online and our parents communications system MSP provides all online form filling, payments and bookings. Internal administration and finance systems are reducing the use of paper where possible and all teachers are reducing print and material costs.  The use of paper and printing has reduced in the last two years.
In Autumn 2021 our senior eco committee and citizenship students researched the amount of food being wasted each lunchtime and found that 153 kg food waste was collected each week – the equivalent to 300 lunches.  The students presented to the school in one of our Eco Assemblies to raise awareness and they have worked with our bursary and our catering suppliers to source food waste bins which will be collected separately for food waste decomposition into bio fuel.  In addition they have worked hard alongside the catering team to encourage students to take only what they know they will eat and to have seconds if they are still hungry.  This has reduced the amount of food waste produced in the school.
In September 2023 an extra recycling materials collection skip was introduced at school to provide further recycling opportunities in waste disposal.
UNIFORM:
We were thrilled to be informed that as of March 2022 our School Uniform providers School Blazer are Carbon Neutral.  We will continue to work with suppliers who have environmental and ethical policies and initiatives in place.
For the School Blazer environmental report click on the link: Ethics (schoolblazer.info)
TRANSPORT:
We recognize we are a rural school requiring day student families to travel by road each day for school.  We therefore have made the decision to provide a door to door transport for students and one third of our school population uses this option, helping to reduce the number of vehicles on the road.
GOING FORWARD…
Seaweed Farming:
In recognition of us thriving as a boarding school and having many international students travelling by air to and from home and school we have committed to donating to Green Ocean Farming to help:
Reintroduce kelp forests to areas to create a new marine environment
Grow seaweed to reduce carbon and nitrogen in our oceans
Utilise waste seaweed into eco-friendly products that would otherwise end up in a landfill site
Greenhouse Grove:
Our Head Girl team are currently working on an Eco Sensory Wellbeing Garden for students to access to have a go at gardening, sit in peace and watch nature.  They are currently building a recycled plastic bottle bamboo frame greenhouse proto-type!
Energy Sustainability:
In addition, our Senior Leadership Team are researching more substantial environmental sustainability projects such as solar panels, hydro power, electricity car charging points and alternative energy solutions.